LUNA WELLNESS SPA
 Indulge mind, body, and spirit
Luna Wellness Spa  |  Luna Lodge  |  Costa Rica
Our skilled and trained Holistic Balance Practitioners offer an enticing variety of services at the Luna Wellness Spa. Indulge mind, body, and spirit with one of our whole body balancing experiences.
The Luna Wellness Spa, with it's open air platform, is the perfect place to relax, unwind and ease a tired body. Attentive practitioners, tropical breezes and the scent of ylang ylang wafting gently in the air make the Luna Wellness Spa a place you will want to visit again and again during your stay. The Osa Peninsula experience can be very moving. As our paths are individual, please feel free to ask questions about any of our wellness activities with our Holistic Balance Instructor.
* Services may vary depending on availability
DEEP TISSUE OIL/CREAM MASSAGE
Our practitioners combine Chinese Reflexology, Tibetan massage, deep muscle stimulation, and a relaxing lymphatic face massage for full body relaxation. Reiki, acupressure, assisted stretch, and aromatherapy, with natural oil and organic flower essences, complete the session for ultimate peace and enjoyment.
60 minute session: $125
90 minute session: $155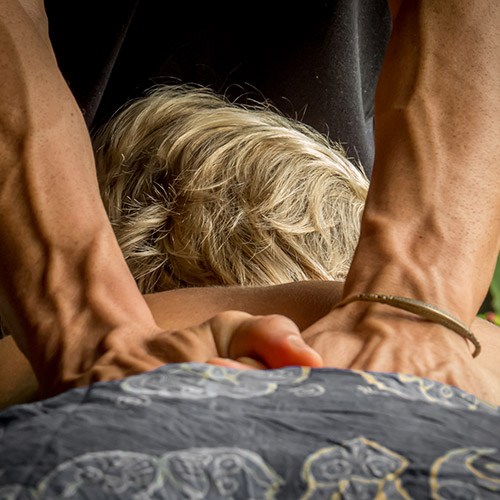 TANTRA MASSAGE
This form of massage is designed to restore the power balance, to align the chakras, to heal the emotional facility. This allows the body, heart, psyche, and spirit to move towards alignment, and induce deep relaxation of the body.
60 minute session: $125
90 minute session: $155
REIKI
Reiki is working with energy- an ancient hands-on technique that involves powerful energy channeling to activate and accelerate your natural healing process. The word Reiki comes from Japanese and is generally translated as "universal life force energy." Oil free sessions with healing sound vibrations and organic flower essence aromatherapy.
60 minute session: $125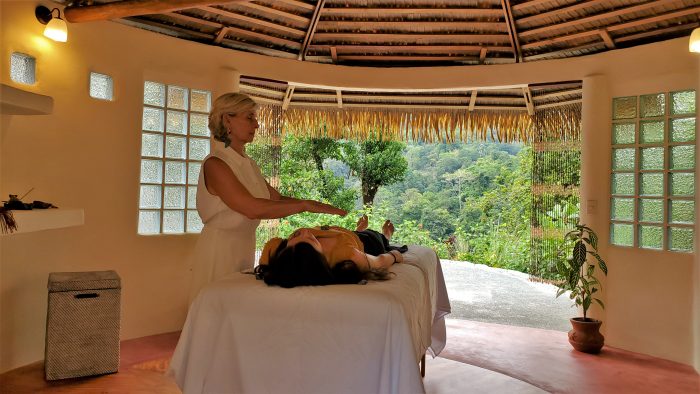 SHAMANIC REIKI
Shamanism is one of the oldest forms of spirituality that exists today and it teaches that nature can balance and revitalize and shift consciousness; it opens us to invisible and intrinsic energies that most of us are unaware of. Reiki is a natural healing life force and comes from the heart not the head. So combined, Shamanic Reiki invites you to open your heart. When the heart is open, life works. A true healer is simply a conduit of divine love. Lana is a wise woman who´s soul you can see when you speak with her. The capability to be fully present with others during interactions is rare, and something she possesses with benevolence
60 minute session: $125 / 90 minute session: $155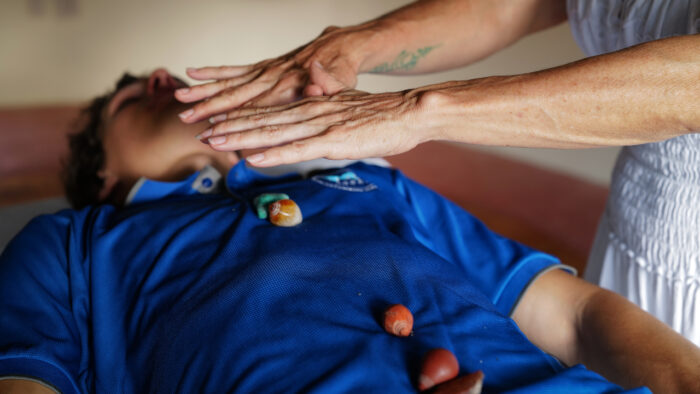 GEM THERAPY
(THERAPY OF ENERGY)
Harmonize your body and mind with a gem therapy session. The use of therapeutic gemstones has its roots in such diverse cultures and systems as Ayurveda, Chinese medicine, and Native American shamanism, and is reflected in the more recent practices of crystal healing. Align and balance the body's seven chakras as gemstones concentrate light-filled powers and color vibrations into the body's chakras. Gemstone vibrations affect your aura, helping your body to achieve not only balance and awareness but also improve your emotional, spiritual and physical levels.
45 minute session: $80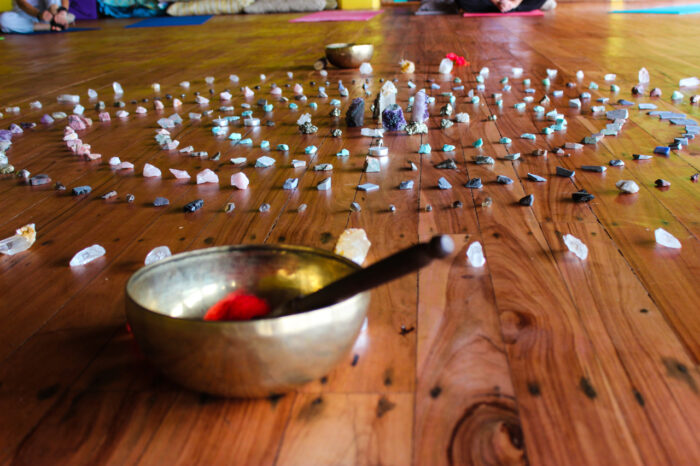 LUNA FACIAL AND HEAD MASSAGE
This massage combines a facial and head massage. The ultimate in relaxation, as your head is massaged and shampooed with a delicate natural shampoo; you'll receive a glow-inducing facial; exfoliation organic coffee or coconut, clay and mud mask then a relaxing Shiatsu Facial massage followed by aromatherapy.
60 minute session: $125
HOT STONE MASSAGE
Hot stone massage therapy dates back thousands of years to the Egyptians, Chinese, and Native Americans and is used to balance the body's energy. Warm, round stones are placed along specific energy centers to relax inflamed, sore muscles and allow the massage therapist to work deeper into the muscles, providing a soothing, nurturing massage.
60 minute session: $125
90 minute session: $155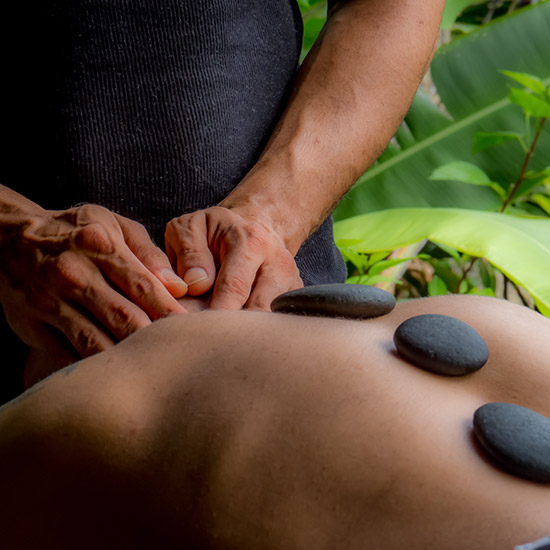 COCONUT BODY SCRUB
Refresh your entire body with this three step process, coconut exfoliation, a body wrap and an oil massage. The coconut wrap is applied to the entire body and after a hot shower, to complete the therapy; the body is treated to a relaxing Deep Tissue oil massage.
2 hour session: $175
THAI MASSAGE
Thai massage is based on Indian physical therapy practices. Pressure and stroking motions move blood, aiding normal circulation and realigns knotted muscles for improved movement. Clients are asked to wear loose-fitting clothes for proper treatment.
90 minute session: $155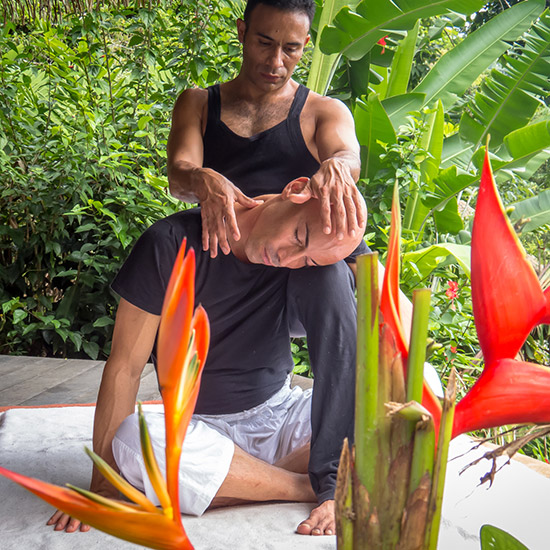 CHOCOLATE THERAPY
(THERAPY OF HAPPINESS)
This Therapy consists of three stages; exfoliation, body wrap and an oil massage. First a soft exfoliation hydrates and cleanses the skin. A delicious chocolate wrap is then applied to the entire body and covered in a plastic wrap for a warming effect. After a hot shower, to complete the therapy, the body is treated to relaxing massage with chocolate scented oil. The aroma of chocolate induces the production of beta endorphins which relax and rejuvenate the skin, giving the sensation of extreme pleasure.
2 hour session: $175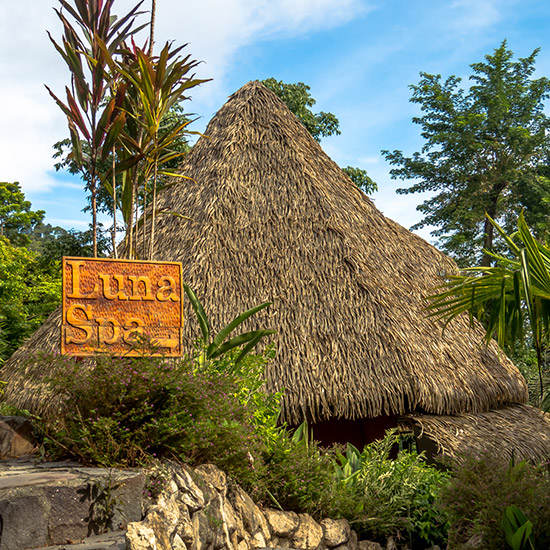 REFLEXOLOGY SESSION
Enjoy an antic foot and hands massage session with emphasis on the energy (Chi) meridians that end on your toes and fingers.
60 minute session: $125
90 minute session: $155
LANA'S SPECIAL
A combination of a Deep Tissue Oil/Cream Massage with a Thai Massage and ultimately concluding with a Luna Facial and Hair Massage.
1 hour 45 minute session: $175
Toll Free US & Canada:
1-888-760-0760
Costa Rica Direct:
+506 4070-0010
E-mail Us:
reservations@lunalodge.com

WhatsApp