Don't miss the retreats hosted at our venue.
2020 Vision Retreat in Costa Rica
January 18 – 25, 2020
Launch the next decade with your 2020 vision – a clear intention about who you are and what matters most to you. An intimate gathering of 20 participants from across the globe
Join us for a week of clarity, creativity and connection at nature's edge, on the Osa peninsula in Costa Rica. In this uniquely vibrant place, we will blend the practices of yoga, free writing, play and communion with nature to create your personal Life Brief, a living document that captures what matters most to YOU. This is an invaluable tool for making decisions and taking action in your relationships, your work and for yourself.
Your discoveries will be captured into language that you will take home with you in the form of The Life Brief – along with a clear set of actions, and a fire in your belly. This is your north star, your deepest wisdom, and the starting place for all that you create for yourself and the world over the next 10 years.
With the 2020 Vision Retreat, you will enter the decade and begin your next chapter with courage, clarity and creativity.
What's included:
7-day retreat program

Your personal Life Brief workbook

Lodging overlooking the rainforest

Round trip ground transport between Puerto Jimenez Airport and Luna Lodge

3 nourishing meals daily (can accommodate vegan, vegetarian, and GF diets)

Daily yoga and meditation

Hikes through the rainforest on the private lodge land

Free time to rest, relax, enjoy the pool or beach, and other activities https://lunalodge.com/activities/

Additional spa treatments and adventure opportunities are available for purchase through the resort upon arrival.
International and Domestic air travel not included with retreat.  Once you arrive in Puerto Jimenez, drivers will transport you to Luna Lodge (cost included).
Arrive at Luna Lodge anytime between lunch and dinner. Our first retreat gathering will be at dinner around 6pm on Saturday, January 18th. Departure after breakfast on Saturday, January 25th.
Retreat Teachers
Bonnie Wan
I'm Bonnie Wan, a career brand strategist who has spent the last three decades working with companies to articulate the essence of who they are and why they exist through a tool called the Brief. This simple and sharp articulation of purpose is used to keep brands anchored in who they are while offering a springboard for creative action.
In 2010, I applied this approach to my life and everything changed…my career, my marriage, myself. I call this The Life Brief and have designed a workbook and workshop to help you write yours.
Sarah Pemberton, MA
Sarah is a teacher, a writing group facilitator, and the founder of Write Now Portland, which offers writing groups to women and children, supporting them in creativity and self-discovery as they develop their writing skills. She has studied shamanism for 5 years at Lightsong School of Shamanic Studies and is passionate about transformation and holding space for others. Sarah guides students in accessing their own wisdom through journaling, creative prompts, and shamanic journey.
Alesha Hanson Yoga 500hr E-RYT
Alesha believes that at our core we are all desire connection….to ourselves, each other and the greater world. Yoga takes us there through body, breath and awareness again and again, where we find there is no separation. She inspires students to practice from a place of authenticity with respect for individual skeletal structure, muscular strength and flexibility. Her teaching style is slow and soulful, woven with inspiration and playfulness.  Teaching is one of Alesha's greatest joys along with deep belly laughs with her family and friends and exploring everything in the natural world. 
Explore and Discover
A Quest in the Osa Peninsula
February 1 – 8, 2020
"Mindfulness of our continuous, interbreathing relationship with trees and green plants can provide us with a vivid awareness of our interconnectedness with all beings."
~ Jan Chozen-Bays, M.D.
Join us for an exploration in the Osa Peninsula and discover your authentic self. Awake each morning to the sounds of nature and bask in the beautiful rainforest. Experience the peninsula from its' beaches, waterfalls and rainforest. Observe animals in their natural habitat. Nourish your body with organic delicious food each day. Replenish your body with yoga and mindfulness sessions.  Agnes facilitates mindfulness, meditation and yoga sessions to enhance awareness of your true self. Our focus is exploration and discovery. Our body, mind and heart have an amazing capacity; it is vital to take time away from the chaos to renew those energies within us. Immerse yourself in nature and appreciate the beauty around you and within you. Luna Lodge is the perfect place for this quest. You will be transformed!
Your Facilitator: Agnes has been in the healing field for 32 years as  a physical therapist, as a yoga and mindfulness instructor for 12 years and leading wellness workshops for 20 years. She is a wellcoach; guiding clients via yoga, mindfulness, fitness, bodywork and meditation.
To learn more about her, view www.asyogaworks.com. Click on the "Testimonials" tab to read what participants enjoyed about the 2018 Costa Rica trip: "Enlighten Up!".
Reclaim Your Self
with Emma Henry
February 8 – 15, 2020
Join senior Jivamukti teacher Emma Henry for a yoga retreat in the enchanting Luna Lodge. Enjoy one of the most bio-diverse places on the planet and practice Jivamukti yoga on a spectacular platform with endless vistas over a pristine rainforest.
We begin with a private charter flight to our remote location. We sleep in bungalows, haciendas and safari tents built with love to harmonise with the environment and practice twice daily yoga with Emma, who will be creating a potent and rewarding week of dynamic yoga, meditation, chanting and relaxation. Your sunrise morning classes take place while the vibrant rainforest wakes up around you, with the swirling mists clearing as the sun appears above the treetops.
Between your yoga classes relax on the deck absorbing the energy of the rainforest while spotting hundreds of rare birds and exotic animals or book massage at the open air spa. You can also enjoy the natural swimming pool or take a dip one of the 3 nearby waterfalls. There are options to try surfing or kayaking and to book a guide to take you into the national park.
Our retreat closes as we fly back to San José together and enjoy a night in lovely guest house in Cariari, close to the airport so that you are perfectly placed for your onward travel.
Emma Henry
Emma was introduced to yoga in the mid 90s and has been teaching since 1998. Her background in dance and martial arts is evident in her dynamic, innovative and playful choreography and understanding of anatomy and the subtle body.
Her yogic path has led her to Mysore from practicing Ashtanga with Sri K Pattabhi Jois to advanced certification in the Jivamukti method. Emma is an Advanced Certified Jivamukti Teacher and facilitates the Jivamukti Teacher Trainings with Sharon Gannon and David Life.
Her continuing education is shared with her students around the world through her love of yogic texts and her utterly mesmerizing chanting. Watch Emma teaching.
The Heart of Nature
February 21 – 29, 2020
with Hannah Gruber
Practice Therapeutic Yoga, experience guided meditation, learn simple holistic tools based on Ayurveda wisdom, commune with Nature, and work 1-on-1 with Hannah to deeply heal and restore your mind, body and spirit on this transformative yoga retreat to one of the most beautiful (and secluded) locations in the world.
You have never experienced awe-inspiring beauty and Nature like that hidden inside the rainforest of the Osa. Monkeys, toucans, scarlet macaws, hummingbirds, butterflies, and ancient trees all invite you to experience a healing yoga retreat unlike any other.

ONLY A FEW SPOTS REMAIN!!

SIGN UP NOW and Join us for a powerful and healing yoga retreat.
Family Adventure Healing Retreat
March 22 – 28, 2020
Nature is the best medicine – Unite your family at Luna Lodge with Lana and Amed. 
We invite you to come to the heart of the rain forest to find happiness and understanding with your family again. Would you as parents like to know how to do this? Nature is a powerful medicine and it will support your family thru your journey together. If you are ready to open your hearts and to embrace your new potentials this journey is for you and your family.
National Geographic calls Corcovado "the most biologically intense place on Earth," and Luna Lodge borders Corcovado and is surrounded 360 degrees by nature.
We have created a 7 day retreat that is a combination of tours in the rain forest to see animals, yoga, forest therapy, sound healing, spa treatments and separate workshops for children and couples. Bring you and your family to unite together. We support you and your family wherever you are in your lives. Bring your authentic selves and we will help you have fun and bring back love and harmony into your families.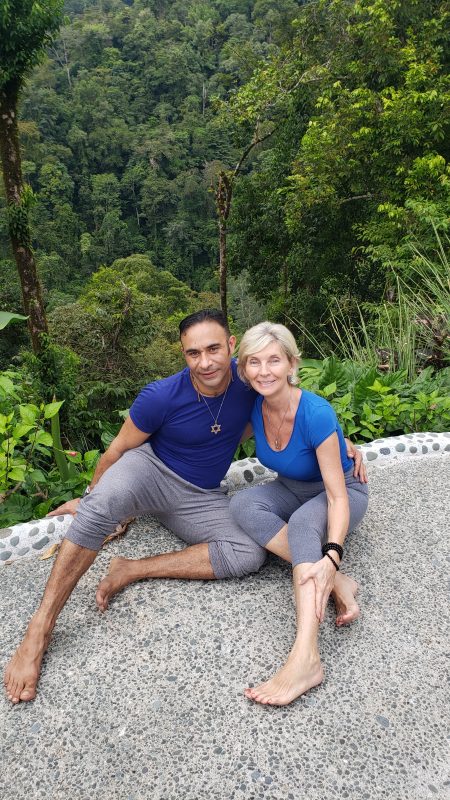 Why is this journey exceptional?
It will provide an opportunity to:
Have intimate time with your family and other families

Experience an intimate relationship with a tropical rain forest

Practice with 2 certified yoga instructors

Hike with 2 certified forest therapy guides

Focus on physical, mental and spiritually healing

Deepen the connection with your partner, your children, others, and nature

Experience a dialogue with your heart, awaken creativity, and commune with your whole family as a core

Create a sacred space for deep listening to each other

Enjoy healthy meals, fun and much, much more
Your Instructors
Lana Wedmore

Amed Bermudez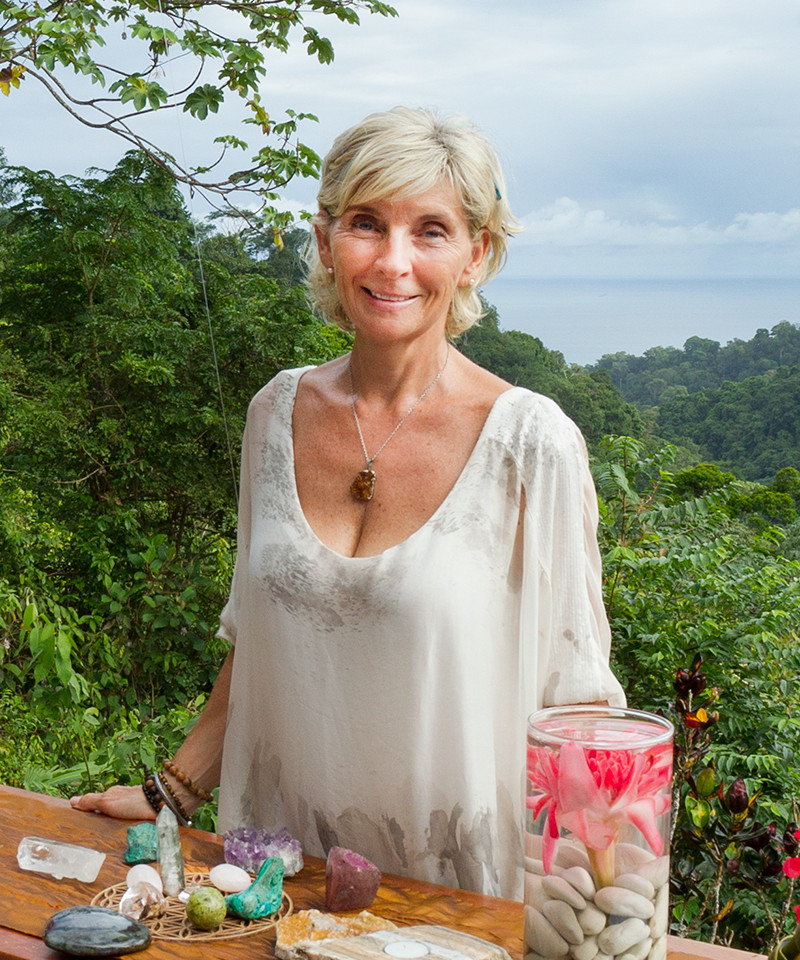 Lana Wedmore is the owner of Luna Lodge and the Founder of the White Hawk Foundation on the Osa Peninsula in Costa Rica.  She was raised in Ski Country —Crested Butte, Colorado, graduated from Colorado State University and decided to travel the world.  She fell in love with Costa Rica and has lived there for 39 years.  She is a Conservationist, Community leader and Healer. Lana's mission is to: heal within, to help heal others, to heal Mother Earth. She has been teaching yoga for the past 30 years.  She is a Shamanic Reiki Master, Life Health Coach and ANFT Forest Therapy Guide.  She also just co-authored her first book. "Married to Paradise" which will be out in early 2020.  She would love to share with you, not only the knowledge that she has gained through these various disciplines, but also what she has learned by living in the rain forest for the past 29 years.  Please join us here at Luna Lodge where— when you go back into nature you fall in love with yourself again.
Amed Bermudez is an experienced registered yoga teacher and a Yoga Alliance certified education professional.  He became a Yoga instructor in 2005, a massage therapist in 2007, and provides both individual and group yoga instruction.
Amed has also created some individualized massage techniques,  including deep tissue, hot stone, reflexology, gem therapy, Reiki, aromatherapy, Tantra massage, and Shiatsu.  He also offers tropical therapeutic facials, body wraps, and scrubs.  He even assisted in the production of a yoga instructional DVD for commercial distribution.
Amed comes from a heritage of Shamans and offers a holistic approach to both massage and yoga instruction.  His belief is your yoga practice is an opportunity to give yourself love and attention, and to become more aware of the body.
Yoga and Adventure with Caroline Kelley
March 29 - April 4, 2020
Join Caroline Kelley for six magical days at Luna Lodge. This spectacular week includes full-board, charter flights between SJO and Luna Lodge, a private guided tour of Corcovado National Park, an early morning bird watching tour and daily morning and afternoon yoga and meditation sessions. Your retreat can be as active or as restful as you wish, the flow of the week allows plenty of time to journal, marvel at the abundance of nature and practice taking your National Geographic award-winning photo!

Caroline has been teaching Yoga for more than 20 years, she leads annual international yoga retreats and yoga teacher trainings. She is known for her wealth of knowledge and expertise, her intellectual and intuitive understanding of the body, her genuine interest in people's well-being, and her lighthearted sense of humor.
Retreat Participant Review:
My Wife Kathi and I have been taking yoga classes from Caroline for 7 years and have attended 5 of the 8 foreign retreats she has hosted along with a number of local Northern California retreats. Our experiences have always left us yearning for more!! The retreats have been well organized, taken place in wonderful facilities in beautiful locations and have allowed us to expand our yoga practices while also enjoying the varied excursions and adventures in new surroundings and cultures. Caroline's teaching skills are second to none and her warm and giving personality endear her to all. She offers many alternatives for those who may have physical issues which limit their ability to perform some poses. Her classes are well paced and are accessible to yoga practitioners of all levels. Kathi and I will continue to attend Caroline's classes and retreats whenever possible. I would encourage anyone with an interest in learning or expanding their yoga practice to give Caroline a try. I'm sure you won't be disappointed.