WELLNESS ACTIVITIES AT LUNA LODGE
Healing experiences to support your journey
Wellness Activities  |  Luna Lodge  |  Costa Rica
Nature is truly the best medicine for mind, body, and spirit.  Luna Lodge is surrounded 360-degrees by nature, which means the elements, energy, and wildlife come together to help heal all of us.  Come join us.

* Activities may vary depending on availability
CACAO CEREMONY
Both the Aztec and Mayan ancient civilizations held " Cacao Ceremonies". They obviously knew instinctively, what we now know scientifically. Cacao, the seed that serves as the basic ingredient for chocolate, has numerous health benefits! Traditionally, people drank Cacao not only for medical health, but also for spiritual awakening and creative guidance. Recent scientific studies point out the health benefits of a cup of pure cacao. Pure cacao beans contain numerous vitamins, minerals, and pure antioxidants. Drinking cacao releases feel good endorphins and increases blood flow. Therefore, for ceremonial purposes, it creates a "natural high!"
Today, Cacao ceremonies may vary widely. They may be as simple as sharing a cup of cacao with a small group, reciting a mantra and raising a toast to an intention, or they may be a sophisticated, orchestrated spiritual ceremony for a large group.
Here at Luna Lodge, we have a small cacao ceremony after yoga each morning.
FULL MOON CEREMONY
Here at Luna Lodge we often refer to the 'Lunar Effect'. This effect is a correlation between specific stages of the lunar cycle and behavior and physiological changes in living beings on Earth, including humans. Next to Corcovado National Park, with no light pollution, Luna Lodge is the best place to touch the moon.
The Moon represents powerful feminine energy. It signifies wisdom, intuition, birth, death, reincarnation, and a spiritual connection.  Ancient cultures the world over have given the full moons names based on the behavior of the plants, animals, or weather during that month.
Our ceremony fuses the moon's powers with the heart opening and creative effects of cacao.  We join together after the evening meal at one of the highest points surrounding Luna Lodge, sitting in a circle, ingesting the moonlight and some freshly ground cacao, learning of the moon's power for that month's moon with music providing a spiritual connection.  An intense four-wind shamanic ritual follows and leads into dancing with the animal spirits.  The ceremony concludes with a sound-healing therapy for everyone.
2 hour experience: $25 per person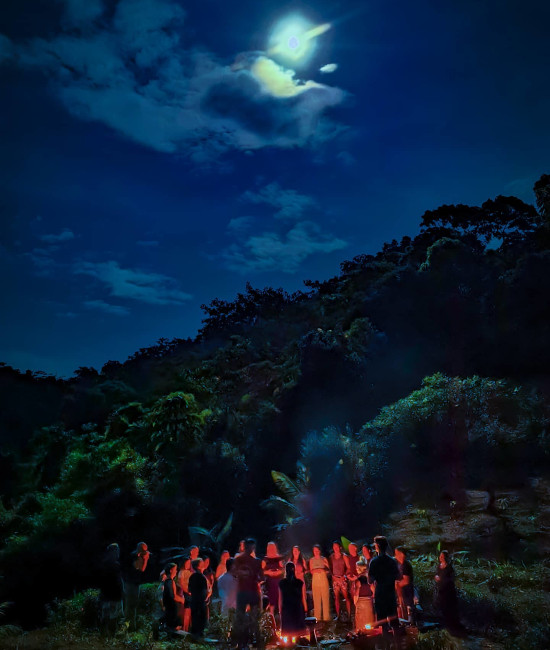 YOGA
With our yoga sessions your body unifies with your soul and you will be able to unwind through asana (pose) and pranayama (breathing) exercises. The instructor guides you through the session, gently improving your flexibility and promoting a sense of peace and well-being. Suitable for people of all levels. For those with no prior experience, our sessions provide a good introduction to yoga.
Every morning 7:30am – 90 minute group session: $25

Private – 90 minute session: $60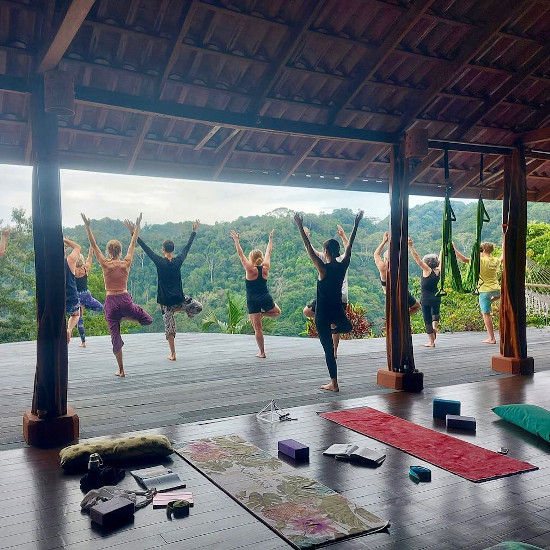 FOREST BATHING
Forest Bathing is becoming one with nature. It brings us into sensual interaction with the more-than-human world, as well as with other humans, in wonderful ways. It is also a deep journey into our knowing of the world. With every walk, we learn more about all of our relationships.  The trails are medium to difficult. Bring hiking boots and water for this enlightening experience.
Learn more about Forest Therapy: YouTube

US$25 per person    2-3 hours    Minimum 2 people
E-Mail
reservations@lunalodge.com
Call Toll-Free in the U.S. or Canada: 1-888-760-0760
Costa Rica Direct
+506 4070-0010
Message us on WhatsApp
+1-888-760-0760