Rainforest Hiking
Rainforest trails to explore the old growth rainforest.
Waterfall Tour
Encounter a great variety of plants, trees, birds, insects, mammals, and, of course, fresh pure water, as you are guided on this hour-long introductory nature hike around the Luna Lodge property. Visit the three waterfalls, take a dip in pure water, and get to know your surroundings.
Forest Bathing
Forest Bathing is a deliciously relational practice. It brings us into sensual interaction with the more-than-human world, as well as with other humans, in wonderful ways. It is also a deep journey into our knowing of the world. With every walk, we learn more about all of our relationships.
Swimming
Beachcomb and surf just a few minutes away at Carate Beach
Take a refreshing dip in the small, secluded swimming hole fed by a waterfall
Relax at the poolside
Stargazing
With no light pollution, the night sky is amazing. Our telescope is always pointed skyward and guides or books are available to help spot specific constellations.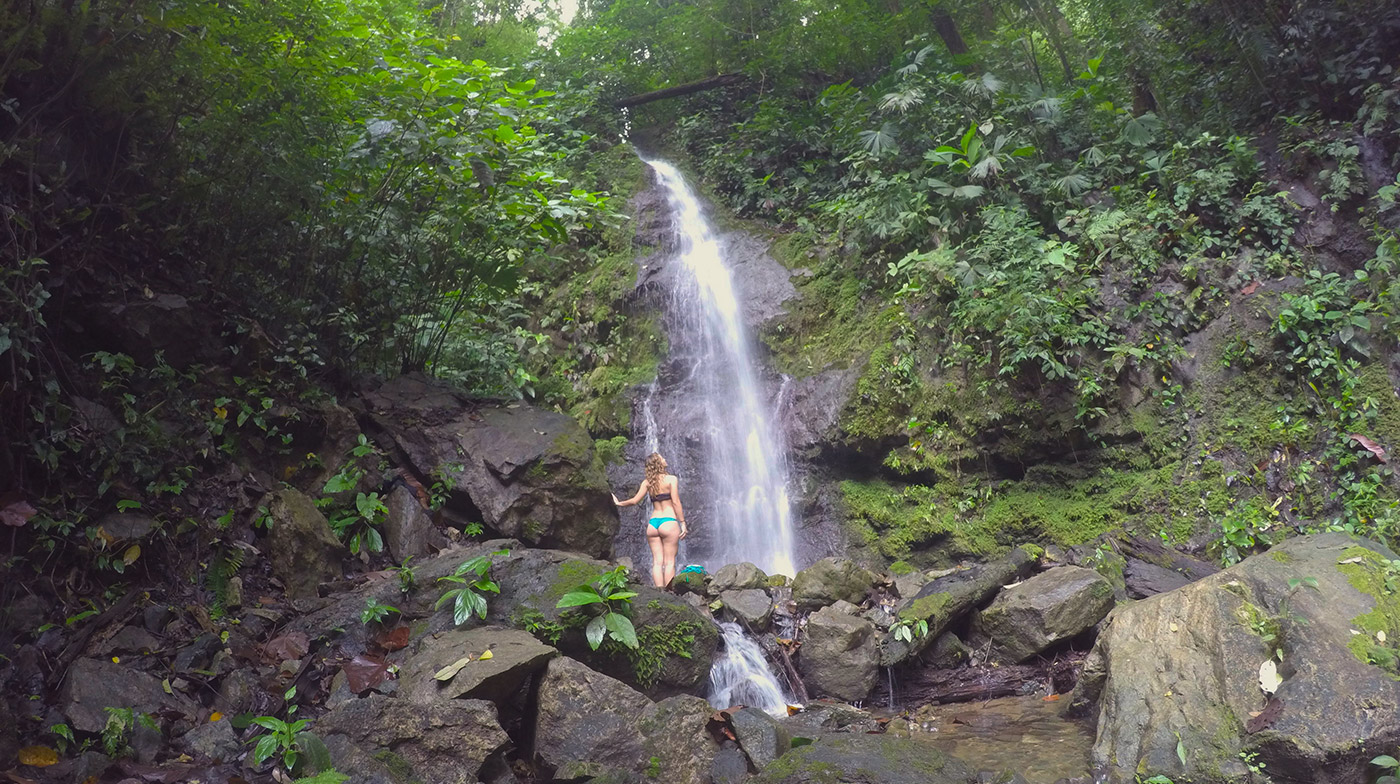 Boogie Boarding
Miles and miles of untouched waves peel off every day on the Osa Peninsula. Boogie Boards are available for some fun in the sun.
Gold Panning
Learn gold mining techniques with a local gold miner! Gold was discovered on the Osa Peninsula at the end of the 19th century, it was rumored that more gold existed on the Osa than in California during the great gold rush. Rio Madrigal, Rio Tigre, and Rio Carate are all major rivers for gold mining on the Osa Peninsula and located close to Luna Lodge. Take your chances and see what you can find!
Toll Free US & Canada: 1-888-760-0760  |   Costa Rica Direct: +506 4070-0010  |   reservations@lunalodge.com
Yoga Sessions
With our yoga sessions your body unifies with your soul and you will be able to unwind through asana (pose) and pranayama (breathing) exercises. The instructor guides you through the session, gently improving your flexibility and promoting a sense of peace and well-being. Suitable for people of all levels. For those with no prior experience, our sessions provide a good introduction to yoga.
60 minute session: $18 (group) / $40 (private)
Guided Hiking Tours
If you don't want to go it alone and would prefer a guided tour, no problem.  We will arrange a guide for you.  Read more about our guided tours by clicking the link below.
Toll Free US & Canada: 1-888-760-0760  |   Costa Rica Direct: +506 4070-0010  |   reservations@lunalodge.com
Additional Activities near Luna Lodge:
Learn to Surf – Pollo Surf School
GUARANTEED TO STAND UP & have the most fun since 1995. Learn to surf on the Osa Peninsula! The water is a wonderful 85 degrees year round. Lessons are taught at Pan Dulce Beach. The wave is a perfect right-point break for beginners. It is a forgiving wave that makes learning fun without any hazards. Whether you are 8 or 78 it's a dream wave for your first ride. Pollo Surf School teaches to your ability level. In the first lesson you will learn to stand up and ride the wave and after that you'll be catching your own waves and turning. Soft Top boards and a rash guard provided for each student.
Oldemar Fernandez, otherwise known as "Pollo" (pronounced poy-yo) of 
Pollo Surf School
, grew up in the area and is known for his big wave surfing. He's the best and most qualified instructor on the Osa Peninsula. He has been teaching surf lessons since 2001. He is a very enthusiastic instructor and he's great with kids. If you want to see some cool surf tricks ask Oldemar to do a hand stand while riding a wave or a nose ride 360 spin. Certified in CPR and First Aide Response and a licensed guide by the Costa Rican Institute of Tourism. For more information, visit 
www.pollosurfschool.com
. Transportation, a picnic lunch and lessons included.
There are endless opportunities to explore
but you may find just sitting listening to nature or curled up on a hammock with a book.... enough
BOOK YOUR STAY